The Worst Treason – by Victor Hugo
Translated by: Henry Carrington
The deepest infamy man can attain,
Is to strangle Rome, or France enchain;
Whate'er the place, the land, the city be,
'T is to rob man of soul and liberty;
'T is with drawn sword the senate to invade,
And murder law in its own court betrayed.
To enslave the land is guilt of such black dye,
It is ne'er quitted by God's vengeful eye;
The crime once done, they day of grace expires,
Heaven's punishment, which, howe'er slow, ne'er tires,
Begins to march, and comes serene and calm,
With her steel knotted whip beneath her arm.
Eugene Delacroix's "Liberty Leading the People" ("La Liberté guidant le peuple")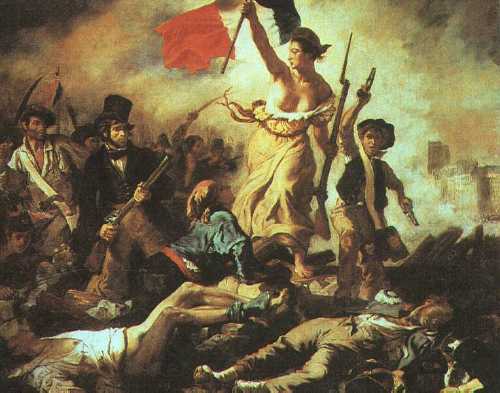 The Worst Treason was published in 1853, as part of a literary attack on Louis Napoleon. Liberty Leading the People was painted to commemorate the July Revolution of 1830. Neither have anything directly to do with July 14, 1789, except they're French, and relate to the concept of Freedom.